Surface Blasting
Surface Finishing-Blasting and Polishing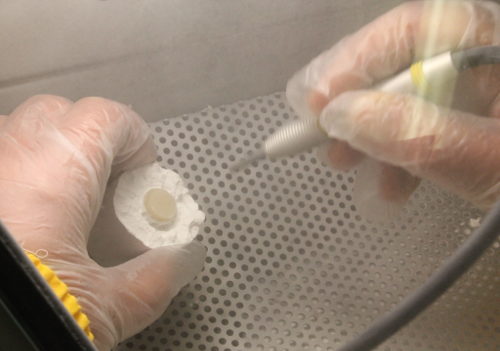 Presently we can offer:
Cermatpro offer closely controlled abrasives in the form of Glass Blasting Beads and FEPA grade Aluminium Oxides.
Our in-house controls allow us to tightly monitor specifications such as particle size, shape and chemistry, using Laser Particle Size and X-Ray Fluorescence measurements.
Furthermore, our coinciding developments in the area of Pressable Ceramics mean that we monitor the behaviour of abrasives through some of the most demanding applications.
We currently use our own abrasives to ensure the smoothest possible surface is maintained during devesting of e-max Pressable Ceramics, while still allowing gentle removal of any formed reaction layer without the need for HF treatment and excellent retention of detail.
Cermablast Aluminium Oxide
250 microns
110 microns
50 microns
Other sizes are available
Packaging Options
25kg paper bags packed on 1.2 tonne Pallets. Part pallets are also available.
Packaging can be supplied with own labels to suit your requirements.
Other options, including supply in plastic buckets with your own labelling, are available subject to customer request.